Here we go again since my volunteer will not or cannot add page wrap to my options. We are close to a knew website so please keep sharing updates ! posted Oct 18/17
Google shapes how we understand the world, and it can make entire events disappear from history. Missouri Attorney General Josh Hawley is investigating Google for consumer protection and anti-trust violations. Peter Theil, the co-founder of PayPal donated $300,000 to AG Hawley's campaign fund, and some are speculating he is trying to break up Google. […]
The Syrian Army discovered warehouses filled with US military equipment left behind by ISIS militants who recently retreated. A Leaked memo from the Pentagon to the State Department acknowledged that "The West, Gulf countries, and Turkey support [this] opposition" which referred to the Muslim Brotherhood and al-Qaeda. […]
Islamic rebels in Libya developed a slave trade of African migrants following NATO's war to topple Moamar Gadhafi. Libya's Arab majority views the black population as cheap labor and labeled the migrants as "pro-Gadhafi mercenaries", which was intended to justify the atrocities against them. As Secretary of State, Hillary Clinton was told that Islamist Libyan rebels would victimize black Libyans and migrants. […]
'Tis the Season to be Bad Ass: An Update from Kevin ("Don't Tread on Me") Annett (please share, eh?) posted Nov 17/17
Khazarian mob takedown: Hundreds of Saudi arrests followed by hundreds of U.S. arrests posted Nov 17/17

By Benjamin Fulford, White Dragon Society
2017-11-13




The great purge of Khazarian mobsters continues as hundreds of arrests of Saudi princes, generals, and politicians is now being followed up with the 842 sealed indictments against senior Khazarian gangsters in the U.S., confirmed by Pentagon, CIA, and other sources.

Pentagon sources sent the photos below showing Hillary Clinton and U.S. Senator John "Daesh" McCain "in custody wearing orthopedic boots to hide GPS ankle bracelet on their right leg."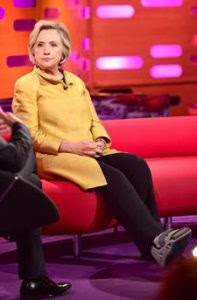 The fact is that most politicians in Washington, D.C.

have become very rich since joining politics, in ways that cannot be remotely justified by their salaries. This means most have been bribed, and that is why most of them are going to go to jail. House Minority Leader Nancy Pelosi has been deliberately acting senile in public recently in order to have a medical excuse to avoid arrest, NSA sources say.

These same NSA sources are now saying the mass shooting that took place in Las Vegas on October 1 was an attempt by mercenaries working for the G4S security company (http://www.g4s.com/) hired by George Bush Sr. to create a distraction in order to kill U.S. President Donald Trump and Saudi Crown Prince Muhammad Bin Sultan (MBS). Trump and MBS were meeting in secret at the suites in the Mandalay Bay Hotel, owned by MBS, to discuss the mass arrest of the perpetrators of the 9/11 terror attacks, these sources say.
Both Trump and MBS were evacuated safely and the arrests have now begun in a way that can no longer be denied by the corporate propaganda media, multiple sources confirm.As the arrests were taking place, Trump had a secret meeting in Vietnam with Russian President Vladimir Putin and Chinese President Xi Jinping. Here is what a CIA source, who had eyes and ears at the meeting, had to say.

"There is a lot more than the 'the sideline meetings and brief handshakes' that the media has portrayed. The three world leaders (Trump, Putin, and Xi Jinping) met off the record. President Jokowi [of Indonesia] was there as well (as a representative of the Soekarno M1 gold holdings). Trump was informed that next month, Putin and/or the Russian Central Bank will officially announce the new gold-backed currency. It is backed by Russia, China, and India along with their gold holdings. Indonesia will use the Collateral Accounts gold to back the new currency. This move will put a lot of pressure on the U.S. dollar and the global Rothschild banking system. It was also agreed between the attendees that it was time to de-escalate the North Korean situation."

It is not yet clear how well the Russian gambit will succeed, but there can be no doubt that some alternative to the current U.S. petrodollar system is needed. The U.S. Corporate government in the Washington, D.C. special district (not a part of the Republic of the United States) is definitely bankrupt. This can be seen in the fact that U.S. government debt has ballooned by $640 billion since September 30th. In addition, the U.S. ran a $539 billion trade deficit and a satanic $666 billion government deficit in the fiscal year that ended on that date.

It is probably no coincidence then that the U.S. corporate government is saying that it will get $800 billion from arrested Saudi princes and $250 billion from new sales of products to China. That would bring in $1.05 trillion, almost enough to pay for the $1.205 trillion in new debt accumulated in fiscal 2017. The rest, presumably, they hope to extort from client states like Japan, South Korea, and Qatar (hence the big arms sales announcements). However, these numbers are almost certainly based in large part on wishful thinking.

A member of Japanese slave Prime Minister Shinzo Abe's cabinet, for example, contacted the White Dragon Society last week to complain about all the American demands for money that took place when Trump visited Japan last week and said "Japan does not have any more money to give."

The Japanese government instituted a "my number system" that gives a unique number to each citizen recently to force out money that was hidden in multiple bank accounts under different names. This managed to weasel out 1 trillion yen or $8.8 billion which was handed over to the Americans when Trump visited, this source says. This is big money by ordinary people's (or government's) standards, but a far cry from what the U.S. Corporation needs to carry on as usual.

The Saudi Arabians, obeying their Khazarian masters, apparently tried to use war scares against Iran last week in a vain attempt to save the petrodollar by starting the apocalyptic World War 3 delusion still envisioned by Khazarian fanatics.

Pentagon sources say the Saudis flew some F15's to Cyprus in a "desperate move that scares no one, since Saudi pilots suck and Pakistani and Israeli pilots won't risk being jammed or shot down by Russia."

Instead, Saudi Arabia is "under pressure to return kidnapped [Lebanese] Prime Minister [Saad] Hariri," the sources say. Furthermore, the November 13th quake on the Iran-Iraq border "appears to show Iran may already have nukes," the source says. This may also have been a secret Israeli attack on Iran, Egyptian sources speculate.

In any case, the Saudi purge has now taken in former Saudi Arabian Ambassador to the U.S. and close Bush family ally Bandar Bin Sultan. Bandar and Crown Prince MBS "may be star witnesses that Israel did 9/11," the Pentagon sources say. Of course, the trail to Israel will then lead to the Rothschilds hiding in their complex in Zug, Switzerland.

For now, it is their U.S. operations that are being shut down. On that front, NSA sources are saying that top Clinton/Bush bagman (and satan-worshipping child torturer) John Podesta was stopped from fleeing the U.S. by U.S. fighter planes and arrested. The meltdown of the Bush/Clinton cabal is now publicly visible in even the corporate media in the form of news that the Podesta's companies have shut down. Furthermore, Trump released another 13,213 of un-redacted files on the Kennedy assassination last week.

https://www.archives.gov/research/jfk/2017-release
The Khazarians and their corporate media slaves are still clinging to the illusion that special counsel Robert Mueller will eventually have Trump arrested as part of the ongoing "Russian election interference" investigation. However, Pentagon sources say that even though Mueller was involved in the 9/11 cover-up, he "is still a Marine who takes orders from Marine Generals [John] Kelly, and [James] Mattis, as the perfect snitch to take down the Bush-Israel cabal."

Also, if you think President Trump is really in charge, please read the article in the link below where White House Chief of Staff General John Kelly says he does not read Trump tweets and that his job is to "make sure the president is briefed up on what he's about to do."

http://time.com/5020743/donald-trump-john-kelly-tweets/
The Pentagon sources say tests of the U.S. emergency broadcast system (EBS) have been done so that citizens can be informed even if the Khazarian-controlled Google and the corporate media continue to lie to them. Hopefully the list of people to be arrested includes the top management of Google, Facebook, etc. so that the Internet can become a true source of information once again.

On a final note, there appears to be something ominous about to take place in China. Last week the Chinese government announced that foreigners would be allowed to take majority (51%) ownership of Chinese financial firms.

http://www.reuters.com/article/us-china-investment/china-widens-foreign-access-to-its-giant-financial-sector-idUSKBN1DA12Q
While on the surface that looks like a good move, Japan, South Korea, and other Asian countries recall how Khazarian carpetbaggers caused devastation by sweeping up local financial companies in the wake of the engineered 1997 Asian financial crisis. China's housing market is now in a bubble that is far worse than Japan's was. If the housing bubble pops as the laws of financial gravity say it must, then we may see Khazarian firms swooping in to grab up bankrupt Chinese lenders at cents on the dollar. This announcement makes one wonder if the NSA was right when they said Chinese President Xi Jinping was a Rothschild agent.

We must not forget the Khazarian ruling class has been responsible for tens of millions of deaths since the end of World War 2. Various authorities, including the U.S. military, have been given irrefutable evidence the Khazarians were actively planning to kill 90% of the world's population, or 6.3 billion people.

We need to stop them permanently this time. This means taking away the main source of their power—their control over the financial system. This means the BIS, the World Bank, the IMF, the European Central Bank, the Federal Reserve Board, the Bank of Japan, etc. must be taken out of their control. They are not going to just hand over the keys, so at the end of the day, it will require men with guns to do the job. That is why U.S., Chinese, and Russian military forces are humanity's best hope.
Evidence has surfaced that does not match the official narrative of the church shooting. A witness says the shooter was on the rooftop for part of the attack; the sheriff says the church service was recorded, then says "very little" was caught on tape; three British news sources report that the shooter took a hostage on the high-speed chase. […]
A study by Brown University estimates that US wars between 2001 and 2018 has cost each individual American taxpayer $23,386. There have been an estimated 7,000 military fatalities and 52,500 injuries. […]
Natalia Veselnitskaya, the Russian lawyer who lured Donald Trump, Jr., into a meeting during the election campaign, rendezvoused with Fusion GPS, the authors of the fake Russian dossier, before and after her meeting with Don Jr. Note that she did not have a proper visa to enter the US and had to be cleared by the Obama administration under "extraordinary circumstances." The episode reeks of an attempted entrapment. […]
A high school student from the Hudson Valley area in New York, who wishes to remain anonymous said he was challenged by his liberal creative writing teacher for being a Latino Trump supporter, and he […]
New poll shows that 71% of Americans believe political correctness has shut down discussion on important issues, and 58% (mostly conservatives) said they don't express their beliefs anymore. Liberals determine political correctness. […]
Hillary Clinton, the DNC, Barack Obama, the CIA, the deep state, Robert Mueller, and George Soros are complicit in a coup de'tat to oust the governments of Ukraine and Syria. […]
None of Manafort's alleged crimes are related to Trump, however, the plan is to indict as many members of the Trump team as possible in hopes of getting some of them to implicate Trump, according to Judge Napolitano. […]
Benjamin Fulford, White Dragon Society posted Nov 2/17

Weekly Geo-political News and Analysis

Is Donald Trump too scared to name George Bush Sr. and P2 Freemasons as Kennedy assassins?

By benjamin
2017-10-30

U.S. Corporation President Donald Trump last week announced he would release all records related to the assassination of President John F. Kennedy, "other than the names and addresses of any mentioned person who is still living." In other words, it appears he is too scared to mention the involvement of George Bush (Scherf, Pecce) Sr. and the Vatican P2 Freemason lodge fascist New World Order faction.

Pentagon officials, however, say, "Trump muscled the CIA, Mossad, the FBI, and the Bush cabal to release ALL JFK files, since [then Israeli Prime Minister] Ben Gurion wanted JFK dead, and the same perps also did 9/11."

These are the people who aim to create a world fascist government controlled by members of European royal families who claim descent from the Caesars and from King David, as revealed by forensic research over a period of many years. This research, including meetings with many members of this family group, has led us to the conclusion that these are the real "elders of Zion."

Thanks to the confessions of Benjamin Freedman…

http://www.sweetliberty.org/issues/israel/freedman.htm

and others, John F. Kennedy became aware of a plot to start World War III, wipe out 90% of humanity, and turn the rest into slaves. The Zionists very nearly succeeded in accomplishing this by triggering all-out nuclear war during the Cuban missile crisis. That is why Kennedy decided to take away their main source of power—the ability to create money out of thin air.

George Bush Sr. (whose real family name goes back through Sherf and Pearce to the Roman aristocratic Pecce name) and the Zionists had Kennedy assassinated in order to prevent the nationalization of the Federal Reserve Board.

These people are still in control of the creation of U.S. dollars, Euros, and Japanese yen out of thin air. Their main instrument of power in the U.S. these days is still the Bush/Clinton/Rockefeller Zionist Federal Reserve Board, truth researchers agree.

A very interesting example of how these gangsters distribute their fiat money can be seen in the article at the link below that shows how the rise in Amazon share prices matches the rise in central bank money printing and moves in the opposite direction of actual Amazon results. There can be little doubt that Jeff Bezos is now "the world's richest man," because he has been selected as a premier distributor of fiat money.

http://www.zerohedge.com/news/2017-10-27/amazon

Forensic research has shown that most (if not all) major listed corporations are controlled, via hedge funds like Vanguard, BlackRock, State Street, Fidelity, etc., by this family group, known now to many as the Khazarian mafia.

In Japan, this writer has identified the quislings used by the Khazarian mafia, thanks to testimony by assassins formerly in their employ here. These people are now vanishing one by one as their former hitmen turn on them, the assassins say.

The quisling politician Seiji Maehara played a key role in the recent theft of the Japanese election by Khazarian mobsters led by Rothschild agent Michael Greenberg and Barbara Bush cousin Richard Armitage. Maehara is the son of the North Korean agent Son Tae Chuk, also known as Daisaku Ikeda. Ikeda for years was the absolute ruler of the Soka Gakkai Buddhist lay group and controller of the Komeito political party, whose duped members are crucial to maintaining Khazarian control of Japan. Ikeda has been in a vegetative state (probably dead) for several years, so Maehara is effectively in charge now, even though he ostensibly belongs to a different political grouping. White Dragon Society (WDS) sources in Japan say Maehara regularly walks into the U.S. embassy in Tokyo and is never asked to show any ID.

The Khazarians stole the Japanese election because the Party of Hope led by Koike Yuriko was planning to nationalize the Bank of Japan, say sources close to the Japanese emperor.

With U.S. President Donald Trump scheduled to visit Japan November 5-7, the Center for Strategic and International Studies (CSIS, the employer of Greenberg and Armitage) had big meetings this past weekend in Tokyo to discuss what agenda they were going to present to Trump.

Prior to this gathering, the CSIS sent a top agent to meet with a representative of the White Dragon Society. At this meeting, the CSIS official, who personally does not approve of Armitage, said that he was sent by Philippine President Rodrigo Duterte to…

investigate the mysterious Dr. Michael Van de Meer, a.k.a. Dr. Michael Meiring, who had both his legs blown off by a bomb in Davao, Philippines when Duterte was mayor there. The official was told Van de Meer believed the bomb was set by Duterte, whom he believed was working for George Bush Sr. The CSIS official replied by saying Duterte denied any involvement in setting off the bomb.

When asked what Van de Meer was doing in the Philippines, it was explained that he was looking for gold. Van de Meer was representing what he called "the family" and needed gold in order to stave off their bankruptcy. The "family" he was referring to was none other than the people claiming descent from King David—i.e., the Khazarian mob.

To understand the dire situation the Khazarian mob is now facing, take a look at the chart of world debt in the link below.

http://www.zerohedge.com/news/2017-10-28/visualizing-63-trillion-world-debt

What this shows is that the Khazarian mob-controlled G7 nations account for 64% of the world's debt. Japan and the United States Corporation alone owe 51% of the world's debt. The mostly Asian creditors to the Khazarian nations are demanding payment in gold, something the Khazarians have run out of.

The Khazarians bought time in 2001 by blowing up the World Trade Center and invading Iraq in order to steal oil to use to pay off their debts.

This time the hysterical Khazarian Zionists are trying desperately to get out of their payment obligations by staging an Armageddon event using North Korea, which is why stealing the Japanese election was so important to them.

That is why it is crucial that Donald Trump not be duped by a fake Khazarian "North Korean threat" story when he comes to Asia next week. Donald Trump has already been fooled by the story of "North Korean kidnap victims." For example, the Khazarian mob is putting out a story that the 13-year-old Megumi Yokota was kidnapped by North Korea, and they regularly trot out her parents on TV to shed tears about their "missing daughter." In fact, Megumi became the mother of North Korean dictator Kim Jong Un and her parents have regular secret meetings with her and their grandson Kim Jong Un in Moscow and Ulan Bator, Mongolia, according to Japanese military intelligence, members of the Rothschild family, and others.

The Japanese puppet regime, as soon as they stole the election, obediently began screaming about the "North Korean threat," as ordered by their Khazarian slave masters. The Yamaguchi-gumi assassin "Mr. K" told this writer last week that his predictions of a natural disaster in Japan around election time were based on Khazarian threats to unleash earthquake weapons in order to ensure Japanese obedience to their rule. It was pointed out to Mr. K that earthquake weapons are not a one-way street and that a sudden swarm of earthquakes at La Palma, one of the Canary Islands in the Atlantic, threatened a 100-meter tsunami against the U.S. East Coast and Southern Europe last week. That was the real reason why the Khazarians backed off on using their earthquake weapon, he was told.

http://www.independent.co.uk/travel/news-and-advice/canary-islands-volcano-eruption-tsunami-warning-cumbre-vieja-tenerife-a8018776.html

As long as the situation in North Korea is kept under control, this time the world has a very real chance of bankrupting these Khazarian criminals once and for all. In a hint that may happen, a WDS source in Canada notes that, "In the next eight days, Canada, Europe, Japan, America, and the UK will all host central bank meetings. Something is up for sure." This something could be an end to fiat banking, which is inevitable. As to exactly when that happens, though, we shall see.

In any case, Khazarian mob control of the Middle East and thus of the petrodollar is crumbling. In Iraq, Mossad asset Massoud Barzani "was removed from power as the Kurdish people turn against him for serving Israel," Pentagon sources note. Russia has now taken control of the Kurdish pipeline to the Mediterranean and may cut off oil to Israel, the sources add.

Khazarian slave state Saudi Arabia is now trying desperately to show a moderate face and seek investors as its oil-money power continues to wane. But until the Saudis learn to actually work and not rely on foreign servants, they are not going to find much interest in their plans.

In the U.S., too, the purge of Khazarians continues to unfold. This was seen last week as Donald Trump and Steven Bannon tightened their grip on the Republican Party with the exodus of anti-Trumper senators Bob Corker, Jeff Flake, and Luther Strange, who were backed by U.S. Senate Majority Leader Mitch McConnell and the GOP establishment.

Also, the purge of Khazarian corporate media continued last week with the firing of Mark Halperin from NBC's Washington Bureau on charges of sexual harassment. There will be a lot more of that going on as Hollywood and the corporate media conglomerates are taken out of Khazarian control, promise Pentagon and agency officials.

Pentagon sources also had the following comment to make on the new government in China: "[Anti-corruption tsar] Wang Qishan made lots of enemies and may have stepped down from the politburo standing committee so new guy Zhao Leji can crack down on corruption, but he is still Xi's financial guy and a back channel for Trump because he owns so many USA properties."

The new Chinese politburo standing committee has two representatives from the Shanghai faction of Jiang Zemin, two from the Guangdong faction of Hu Jintao, and three from the Northern faction of Xi Jinping. This means at least two of the main power centers must sign off on any major decisions and no single faction can exercise dictatorial control.

This Chinese group will be discussing how to improve world governance, with Russian Orthodox Christian power symbolized by President Putin, and the U.S. nationalist stratocracy (military government) symbolized by Trump. If the world is lucky, many big and good decisions will be made when Trump visits Asia from November 3-14, 2017. www.benjaminfulford.net
In 2007, prior to the so-called war on drugs, there were 2,828 executions by organized crime. Now the number is 18,017. All crime has increased. […]
Whitefish Energy received a $300-million no-bid contract to restore electricity, but had only 2 employees prior to the contract. Accusations of kickbacks to Puerto Rican politicians appear to be the trigger for the cancellation. […]
A top secret NSA document showed that Saudi Prince Salman ordered rocket attacks against Syria's civilian airport in Damascus, in violation of international law (and morality). US intelligence (CIA) had advance knowledge of the attack. […]
The IRS issued an apology, admitting that its actions were wrong, but the damage wad done. Three years of legal defense and legal fees fractured the movement. […]
The dossier used to smear Trump was originally funded by a Republican hedge fund manager, then Hillary Clinton and the DNC funded it, and, finally, the FBI reportedly spent $50,000 in taxpayer funds to update it during the elections. […]
Benjamin Fulford Asia global report! posted Oct 25/17
The dragnet is slowly but inexorably closing in on the Bush/Clinton (Scherf/ Rockefeller) Khazarian mafia clan and their Federal Reserve Board printing press.  Multiple legal investigations, mass arrests of junior Khazarian mobsters, and public disclosure are now part of regular public discourse, and not just on blogs formerly maligned as "conspiracy" sites.
An interesting sign of the Khazarians' desperation was the spectacle of George Bush Senior posing with four other former presidents (minus Donald Trump) of the United States Corporation as part of a "beg-athon."
First, we must note that with computer graphics and body doubles it is hard to know if this event really took place.  For example, multiple sources have told this writer that Bill Clinton (Rockefeller) died of AIDS early this year.
Nonetheless, assuming this event did really take place, this is what a senior CIA source in Texas had to say about it:
"The "beg-athon" in Texas is pure BS.  Notice that the money goes through the George H.W. Bush (Scherf) Foundation.  They are scamming money any way they can get it.  The Khazarian mafia cabal must be really desperate."
The causes of their desperation have been snowballing in recent weeks.  Perhaps most deadly have been the ongoing disclosures about genocides committed by the Khazarian Zionist globaists.  This has started with the release of documents showing that the U.S. government was involved in the murder of over 500,000 Indonesians in the mid-1960s.
The Texas-based CIA source admits, "We removed [Indonesian President] Soekarno from power, and we put Soeharto into power."  He regrets that he was a part of the operation back them.  His excuse:  just doing what he was ordered to do by his boss at Langley.
President Donald Trump promised more disclosure in the following tweet, saying, "Subject to the receipt of further information, I will be allowing, as President, the long-blocked and classified JFK files to be opened."
Three separate sources—one NSA, one Pentagon, and one CIA—all said they did not believe Trump would release the real truth about the Kennedy assassination.  However, one senior Pentagon source who has been consistently reliable in the past said that "The Trump release of JFK files may implicate Bush Senior, Mossad, the CIA, and the deep state, and may be a prelude to an intel dump on 9/11, suppressed technology, the secret space program, and other disclosures prior to mass arrests."
Long-term readers of this blog already know that JFK was assassinated because he was using gold provided by Soekarno, to take control of the issuance of U.S. dollars away from the privately-owned Federal Reserve Board (FRB).
Pentagon sources are saying that in any case, "Khazarian Zionist control of the Federal Reserve Board is kaput, as Fed Governor Jerome (Jay) Powell may be chosen as the next FRB chief, beating out the three Jews, Gary Cohn, Janet Yellen, and Kevin Warsh, who is son-in-law of billionaire 9/11 conspirator and Israeli asset Ron Lauder Stanford PhD. Economist John Taylor may also be named to the FRB as Vice Chairman or Governor."
The source continues by noting, "When the global currency reset happens, the FRB may be folded into [the U.S.] Treasury [Department] and issue gold-backed United States Notes (USN).
The Texas CIA source, who claims to hate Bush Senior but appears to be closely connected to him, says the Khazarian mafia was ready retaliate by taking drastic action, warning that "The entire Internet has a back door installed and the Khazarian mafia can and will pull the plug as a final act.  Bingo;  all computer global financial entries have vanished.  Oops, sorry, it must have been the Muslims, North Koreans, Russia, Iran, or maybe the boogeyman did it… whatever flavor of the month suits their agenda."
A CIA source in Asia agrees, noting:
"They intend to collapse the system.  It will most likely be triggered by the U.S. stock market collapse, followed by the Tokyo stock market.  Why do you think they are both reaching new heights almost daily?  A 50% correction in the Dow would wipe out at least $10-12 trillion.  Bring in Tokyo, and you can add another $5-7 trillion.  This would be enough to bring down the financial system, as these two markets, linked together like Siamese twins, will start a domino effect affecting the world's stock markets.  Europe will follow almost immediately."
This source had the following warning about crypto-currencies, too:
"As we both know, the real creators of Bitcoin (not the alleged Satoshi Nakamoto, the Japanese computer science inventor) built a back door into the system from the onset. When the time is right, they will empty ALL of the Bitcoin wallets as a start and walk away with more than $100 billion, which is the value of Bitcoin now.  Probably it will be much more, especially if they hack all the rest of the blockchains.  Who is behind the curtain, pulling the levers—the real Wizard of Oz?  The same group (different alphabet-soup characters) that created the Internet so that sensitive data could be sent over cyberspace undetected, from base to base, quickly and quietly."
These threats to cause chaos on the Internet are also definitely linked to the fact that Trump is appointing antitrust lawyer Joseph Simons to the Federal Trade Commission.  This has led to speculation that Khazarian strongholds like Google and Facebook may also be nationalized and/or broken up.
A clear sign that the Khazarian-controlled financial system is bogus came in the release of a U.S. Corporate government deficit of "$666 billion" in Fiscal 2017.  The real deficit for that year was closer to $1 trillion, but saying it was the satanic $666 billion was their way of flipping the bird at the world.  They are bankrupt, so whatever numbers they put out are pointless.
This probably explains why so many of the world's ultra-rich have been buying physical gold, artwork, precious gems, and anything else that is tangible, valuable, and portable so that they can haul it off to the hideaways they have been building in remote places.  If they think there is anywhere on this planet they can hide, though, they are naïve.  Their best option is to surrender and hope for peace and reconciliation.
In any case, the Chinese, Russians, and others have already prepared for a Western financial system collapse scenario with their CIPS international payments system.  This means they will weather the financial storm fairly smoothly.
In the West, there will be a need for cash, paper ledger books, and logistics for groceries, gas, and other essentials until the financial system can be rebooted minus the Khazarians.  Written deeds and titles to land, physical share certificates, and other financial paperwork will then be input into the new reality-based replacement.  Debts will not be input into the new system.
These threats to shut down the financial system have an air of desperation about them and reflect the steady and unstoppable takedown of the Khazarian mafia on so many fronts, especially in the U.S.
The investigation of why the Clintons sold 20% of U.S. uranium supplies to Russia in what appears to be an exchange for donations is one front on which the Khazarians are losing badly.  The complicity of former FBI head James Comey in protecting Hillary Clinton is another.
The U.S. military is closing in on the folks who carried out the massacre in Las Vegas as well.  U.S. military-connected sources in Japan say G4S, a UK-based security company with 600,000 employees, "were all over Las Vegas" and that these guys were involved:
This investigation will lead to the Chicago branch of the Khazarian mafia, and from there to Italy.
The Harvey Weinstein (HW) investigation is also becoming a major beachhead into ending Khazarian control of Hollywood.  Here is what a Pentagon source had to say about it:
"The Hollywood drama 'revenge of the goyim' is a blockbuster, as member of the tribe, Harvey Weinstein(HW) was expelled not just from the Motion Picture Academy but also the TV Academy, the Producers Guild of America, the Directors Guild of America, and Harvard University was forced to strip him of his medal."
Also, many thousands of pedophiles have been arrested around the world, and the arrested people are pointing out more senior pedophiles and satanists.  In Hollywood, the FBI arrested 120 traffickers and rescued 84 sex-ploited juveniles.  In Brazil, meanwhile, 108 people were arrested in Latin America's largest takedown of pedophiles.
The Pentagon sources say the FBI is investigating HW for ties to pedophile and Mossad agent Jeff Epstein.  The Epstein investigation is heading inexorably towards people like Bill Clinton and former UK Prime Minister Tony Blair, as child victims now feel safe enough to name their torturers.
Meanwhile, the Khazarian-mob-ruled nation of Israel just suffered a major setback when Russians and Iranians took over oil fields in Kurdistan that were one of that nation's main sources of income.  More will follow.
In Europe, the Czech Republic became the latest nation (following the UK, Hungary, Poland, and others) to distance themselves from the EU fascists by electing the nationalist Trumpian billionaire Andrej Babis as prime minister.
In Japan, however, Khararian mob forces, led by Barbara Bush cousin Richard Armitage, engineered what the Japan Independence Party and others call a fake election to keep their puppet Shinzo Abe in power.
This is what an Asian-based CIA source had to say about him:
"Richard Armitage is definitely the right-hand man for Bush Senior.  This guy goes way back to Vietnam days.  His specialty:  drug and weapons smuggling, with a little human trafficking thrown in for a change of pace.  He was also Assistant Secretary of Defense at one time.  A lot of off-ledger (gold) was moved during his tenure at the Pentagon."  Other sources have told this writer in the past that treason by Armitage is one of the main reasons the U.S. lost the Vietnam War.
So when the takedown of Armitage boss Bush Senior is complete, Armitage and his network of cronies will face justice as well.
Meanwhile, as the West remains preoccupied with the cleanup of gangsters who infiltrated the top levels of power, China is going from height to new height.  In their ongoing once-in-five-years Party Congress they are working out exactly how to realize their dreams for their country's future.  They are looking not just five years ahead, but 10, 20, and 30 years into the future.
If the West does not want to be left behind, it must finish the cleanup of corruption, and hurry up and reboot its financial and political systems.
By Judge Anna Von Reitz with legal documents for everyone especially Americans to see and know! posted Oct 25/17
A few days ago I told everyone that the "mountain moving" has begun. So it has.
Most of the criminality that has infested this country has been built around one central lie — the idea that our government of the people, by the people, and for the people was in "interregnum" — a polite fancy way of saying "on pause", not functioning, in-between periods of activity and leadership— for the past 150 years.
When a Pope dies and the conclave of Cardinals come together to choose a new leader, the Holy See is in "interregnum".
So the rest of the world has, as Karen Hudes said months ago, considered our lawful government to be "in interregnum".
We, the sovereigns of the land jurisdiction of The United States of America might come back and might not. Meantime, our servants running the Territorial United States (military) and Municipal United States (Washington, DC) settled in for a nice long session of eating our food and drinking our wine and sleeping in our beds and generally running amok with our credit cards.
That presumption can now no longer stand.
Please see attached.
By their own rules, the cards have been called. And they lose.
Here is the document Anna referred to as an attachment in the announcement.
The first and second are page 1 and 2 of the whole document, and the third link is the last page of the entire document.
The first document: http://annavonreitz.com/declarationofflag1.pdf
Second document: http://annavonreitz.com/declarationofflag2.pdf
Third Document: http://annavonreitz.com/declarationofflag27.pdf
Fourth link is the entire 28 page Document: http://annavonreitz.com/declarationofflag.pdf
Source: Paul Stramer
A law restricting freedom for one reason eventually can – and probably will – will be expanded to include additional reasons – in the name of public safety. What creeps along the ground today stands up and runs wild tomorrow. […]
Selective non-action demonstrates that the biggest threat to the survival of a free America is not leftist violence in the streets, but leftist infiltration into law enforcement and government. […]
NBC 'leaked' the Access Hollywood tape featuring Trump making lewd comments about women during the election, yet NBC rejected the Harvey Weinstein story. […]
NY Times London homepage editor Desiree Shoe admits the newspaper's liberal and anti-Trump bias. She also trashes Vice President Mike Pence for being "so religious". […]
The government document lists schemes to sabotage ships and planes, create the illusion of casualties, stage riots and actually sinking a boatload of refugees, "real or simulated"– they are willing to kill real people. […]
Soros is known for fomenting numerous Color Revolutions. His ultimate mission is to eliminate national borders and to establish 'progressive' policies globally. […]